Travel
Your Adventure Awaits: Zion Park Camping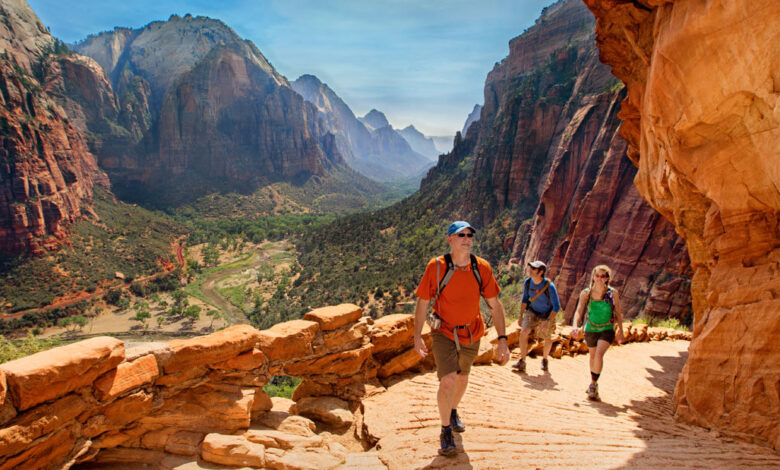 Are you ready for an unforgettable outdoor adventure? Look no further than Zion National Park camping. With its stunning natural beauty and a wide range of recreational activities, Zion Park offers an ideal destination for camping enthusiasts.
Whether you're an experienced camper or new to the world of outdoor exploration, Zion National Park camping has something to offer everyone. Get ready to immerse yourself in nature and create memories that will last a lifetime.
Choosing the Perfect Campsite
When it comes to camping in Zion National Park, choosing the right campsite is crucial. The park offers a variety of camping options to suit different preferences and needs. From tent camping to RV camping and even glamping, there is an option for everyone.
If you prefer a traditional camping experience, pitching a tent in one of the park's designated campgrounds is a great choice. These campgrounds provide basic amenities such as restrooms, picnic tables, and fire pits. One popular campground is the Watchman Campground, which offers stunning views of the surrounding cliffs and easy access to hiking trails.
For those seeking a bit more comfort without sacrificing the beauty of the outdoors, consider glamping. Several companies in the area offer luxurious camping experiences with amenities like comfortable beds, private bathrooms, and even gourmet meals. Glamping allows you to enjoy the beauty of Zion Park while still enjoying the comforts of home.
Exploring Zion National Park
Zion National Park is a haven for outdoor enthusiasts. With its majestic red rock formations, breathtaking canyons, and diverse wildlife, there are endless opportunities for exploration and adventure.
Hiking is one of the most popular activities in Zion Park, and for a good reason. The park boasts an extensive network of trails suitable for hikers of all levels. Whether you're looking for a leisurely stroll or a challenging climb, Zion Park has a trail for you. Don't miss the iconic Angels Landing trail, known for its thrilling ascent and stunning panoramic views.
If you prefer to explore the park on wheels, consider renting a bike or joining a guided biking tour. Biking allows you to cover more ground while still enjoying the beauty of the park. The Pa'rus Trail, a paved path that runs along the Virgin River, is a popular choice for cyclists.
Another must-see attraction in Zion Park is the Zion Canyon Scenic Drive. This 6-mile road offers breathtaking views of the park's iconic cliffs, and there are several pull-off points where you can stop and take in the scenery. Please note that private vehicles are restricted on this road during peak seasons, but you can access it via the park shuttle.
Planning Your Trip
To ensure a smooth and enjoyable camping experience in Zion National Park, proper planning is key. Here are a few tips to help you get started:
Make reservations: Zion Park camping is popular, so it's essential to make reservations in advance to secure your campsite or explore other accommodations in the area.
Pack appropriately: Remember to pack essential camping gear such as a tent, sleeping bags, cooking equipment, and appropriate clothing for varying weather conditions. Don't forget to bring plenty of water and sunscreen to stay hydrated and protected from the sun.
Follow park regulations: Respect the park's rules and regulations to help preserve its natural beauty for future generations. Be mindful of wildlife, stay on designated trails, and properly dispose of trash.
Conclusion
Your adventure awaits in Zion National Park. From the thrill of camping under the stars to the awe-inspiring beauty of its natural landscapes, Zion Park offers a truly immersive outdoor experience. Whether you're seeking thrilling hikes, scenic bike rides, or simply a peaceful retreat in nature, Zion Park camping has it all. Start planning your trip today and get ready to create memories that will last a lifetime.