Shopping
Under Armour T-Shirt: A Comprehensive Guide On Fit & Fabric Selection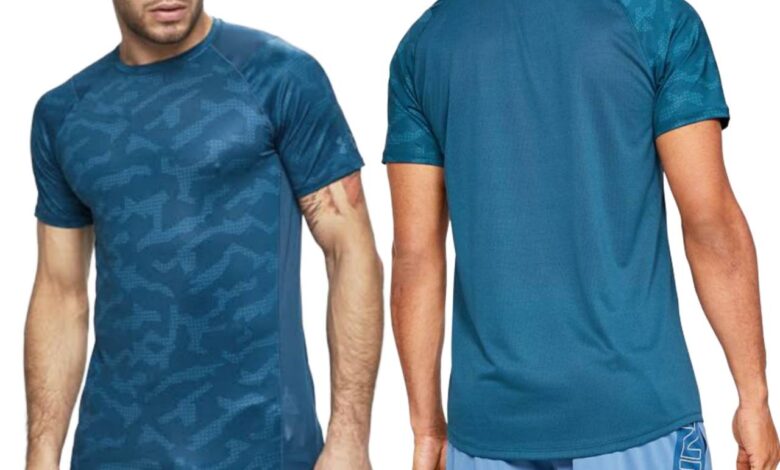 When it comes to activewear, Under Armour has established itself as a frontrunner in the industry. Their commitment to providing top-notch quality and performance-driven apparel is well-known. Among their popular products, the Under Armour T-shirt stands out as a versatile and essential piece.
In this comprehensive guide, we'll delve into the crucial aspects of selecting the perfect Under Armour T-shirt, focusing on fit and fabric, to ensure that you're making the right choice for your comfort and performance needs.
Understanding the Importance of Fit
Fit is the foundation of comfort and style when it comes to any garment, and Under Armour T-shirts are no exception. These shirts are designed to cater to various body types and preferences, ensuring there's something for everyone.
Regular Fit
The regular fit Under Armour T-shirt offers a classic and relaxed silhouette. It's a great choice for those who prefer a bit more room and comfort during their activities. The regular fit is ideal for casual wear and light workouts.
Compression Fit
If you're looking for a snug and supportive option, the compression fit is your go-to. This type of fit is designed to conform to your body, providing muscle support and aiding in recovery. Athletes often opt for compression fit shirts during intense training sessions.
Loose Fit
For individuals who prioritize freedom of movement above all else, the loose fit is the answer. It offers ample space and is perfect for activities that require extensive motion. Many prefer the loose fit for activities like yoga or stretching.
Exploring Fabric Choices
The choice of fabric significantly impacts the comfort and performance of your Under Armour T-shirt. Under Armour employs advanced fabric technologies to enhance your wearing experience.
HeatGear
HeatGear fabric is engineered to keep you cool and dry in hot conditions. It wicks moisture away from your skin, promoting quick evaporation. This fabric is a staple for intense workouts and outdoor activities under the sun.
ColdGear
On the opposite end of the spectrum, ColdGear fabric provides warmth and insulation in chilly weather. It efficiently retains body heat, making it suitable for cold-weather runs or as a base layer during winter sports.
Tech Tee
The Tech Tee fabric strikes a balance between moisture-wicking and comfort. It's incredibly versatile and works well for various activities. Whether you're hitting the gym or running errands, the Tech Tee fabric keeps you feeling fresh.
Making Your Selection
Choosing the right Under Armour T-shirt involves considering your preferences and intended use. Here's a quick step-by-step guide:
Identify Your Activity: Determine whether you need the T-shirt for intense workouts, casual wear, or specific sports.
Select Your Fit: Choose between regular, compression, or loose fit based on your comfort and movement preferences.
Assess the Climate: Consider the weather conditions you'll be wearing the T-shirt in. Opt for HeatGear, ColdGear, or Tech Tee accordingly.
Size Matters: Refer to Under Armour's sizing chart to find the perfect size for your body type.
4.Navigating Your Decision
Efficiently selecting the ideal Under Armour T-shirt entails a consideration of your proclivities and intended use. Here's a succinct step-by-step roadmap:
Define Your Activity: Ascertain whether the T-shirt will accompany you during vigorous workouts, casual wear, or specific sports.
Handpick Your Fit: Choose between the regular, compression, or loose fit, aligning with your comfort and range of motion requisites.
Evaluate the Climate: Gauge the environmental conditions you'll be enveloped in while sporting the T-shirt. Opt for HeatGear, ColdGear, or Tech Tee accordingly.
Size Precision: Consult Under Armour's sizing chart to pinpoint the precise size harmonizing with your physique.
Conclusion
Investing in the right Under Armour T-shirts can elevate your activewear experience. By understanding the nuances of fit and fabric, you're empowered to make an informed decision that aligns with your lifestyle and needs. Remember, the perfect T-shirt isn't just about looking good – it's about feeling confident and comfortable while pursuing your active endeavors. So, go ahead and embark on your next adventure with the confidence that comes from wearing the right Under Armour T-shirt.