Travel
Kid-Friendly Attractions You Can't Miss in Utah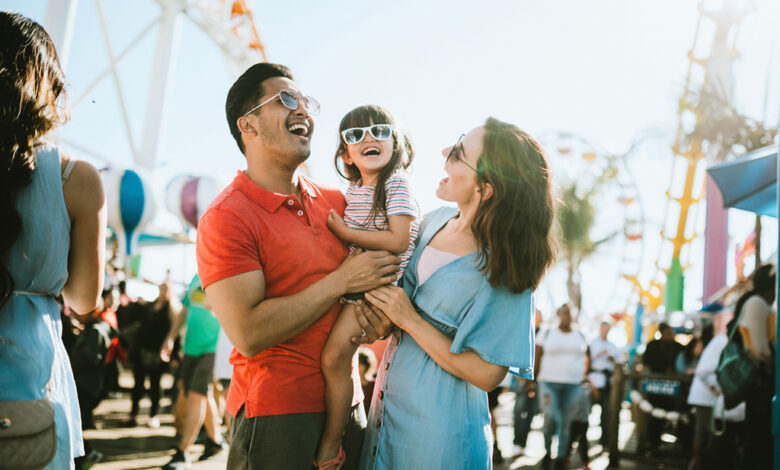 If you're curious about what fascinating attractions await visitors to Utah, then read on. From remarkable amusement parks to pulsating national parks and majestic canyons, Utah's diverse landscape offers an array of opportunities for people of all ages. Whether you're planning a weekend getaway or a weeklong family vacation, this comprehensive guide is your ticket to discovering the best kid-friendly attractions in the state. So grab your adventure hat and let's explore Utah!
Lagoon in Farmington
Lagoon in Farmington, Utah is an amusement park that gives kids an unforgettable day of thrills and exploration. With over 45 thrill rides and attractions to choose from, there is something for everyone. The theme park has roller coasters for the adventurous, a Ferris wheel and carousel for the young ones, and plenty of shows and food stalls to go around.
Kids will have fun with the action-packed games such as Swooper, Freestyle Music Hall, and Crazy Coaster which are tailored to fit their age group. Lagoon also has unique offerings such as the Haunted Mansion with its frighteningly fun scenes and characters. Families visiting the attraction will surely find activities that meet their needs and desires. With everything there is to offer, one visit to Lagoon in Farmington won't be enough!
Discovery Gateway in Salt Lake City
Traveling with kids to Utah? Don't miss out on Discovery Gateway, Salt Lake City's children's museum that offers fun, interactive experiences for the whole family! Here, kids explore the exhilarating world around them and satisfy their curiosity through an array of innovative exhibits.
With stimulating hands-on activities like flight and invention challenges, a pretend marketplace, playgrounds, and more, everyone at Discovery Gateway can find something to thrill and excite them. Plus, the museum provides educational resources about the natural environment of Utah, such as its beaches and deserts. So come discover something new with Discovery Gateway—it's an unforgettable experience your family will never forget!
Zion National Park
Zion National Park is an especially exciting destination for kids who enjoy adventure and exploration. Boasting a variety of activities for all age groups, such as canyoneering, hiking trails, camping, stargazing, and more, Zion provides a perfect combination of fun and education.
There are even guided tours junior explorers can join to learn about the area's history and archeology; from learning about ancient Native Americans or early settlers, kids will open their minds to new knowledge. This stunning national park also has plenty of opportunities to observe native wildlife in its natural environment. With beautiful rivers, glorious waterfalls, and awe-inspiring canyons blanketed with colorful wildflowers in the spring and summer months, Zion National Park is an unbeatable playground that any explorer would enjoy.
The Beaver Dam Wash National Conservation Area
Families with children seeking an affordable, informative, and picturesque adventure need to look no further than the Beaver Dam Wash National Conservation Area in Utah. Visitors to this area will be awed by vast landscapes of multi-colored rock formations, sand dunes, and sheer cliffs.
Kids can learn about ancient life fossilized in the shale while they take in the views from the gentle hiking trails. Filled with diverse flora and fauna of plant and insect species, families can take part in guided tours or rent outdoor equipment to explore the sights on their own time. Overall, it is a safe, family-friendly location that provides memories that will last a lifetime.
T-Rex Planet in Sandy
T-Rex Planet in Sandy, Utah gives kids of all ages the chance to explore a world that's out of this world. From dinosaur fossils to hands-on activities and interactive exhibits, visitors get an up-close look at science as they investigate the past.
But that's not all: kiddos can take part in scavenger hunts, explore a gondola ride into deep space, and have fun on spin rides and bumper cars! So if you're looking for a kid-friendly attraction that's both educational and exciting, look no further than T-Rex Planet! It is the perfect destination to discover something new while having fun with your family.
Great Salt Lake
Take your family on a magical experience to the Great Salt Lake with a boat tour to spot American white pelicans! Whether you're visiting from out of state or Utah-local, the incredible sights of this salt lake can only truly be appreciated from a boat.
A tour will take you out onto the lake, where you are guaranteed spectacular views of nature and wildlife. Most notably, your group will have the opportunity to see massive flocks of American white pelicans that live around the area!
The kids in your family will love it – they'll get to experience an entirely unique landscape that displays many facets of modern Utah history, while also having engaging opportunities to observe gorgeous birds in their natural environment. It'll be one of those experiences that you never forget and your family will talk about it for days afterward!
Bryce Canyon National Park
Bryce Canyon National Park in Utah is a must-see for adventurers of all ages. The park is known for its beautiful, awe-inspiring natural features, such as incredible geologic formations called hoodoos created by millions of years of erosion and diverse wildlife like mule deer and bobcats.
For outdoor enthusiasts, there are endless possibilities within the park: hike along marked trails to take in breathtaking views, camp under the stars, and even horseback ride with experienced wranglers. A visit to Bryce Canyon National Park is sure to leave you with lasting memories and a never-ending desire to explore the great outdoors.
Dinosaur National Monument
Utah's Dinosaur National Monument is a paradise for any history buff! From the abundant fossils everywhere to hands-on digging experiences that let kids find bones for themselves, there's plenty to do and see. Look out for ancient footprints, try your luck at prospecting inside the monument's quarry walls, or discover an array of petroglyphs from age-old Era participants as you explore this geologic gem. You don't have to be a professional paleontologist to appreciate the discoveries waiting at Utah's Dinosaur National Monument.