Home
Home lighting ideas for your living space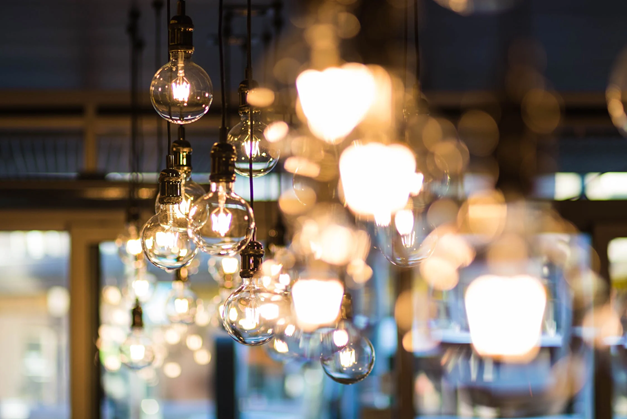 The living room is usually the largest in the house, and it serves as a hub of activity throughout the day and night. Creating ambience is more involved than simply dimming an overhead light and calling it a day!
It is important to make sure your living room is appropriately and tastefully illuminated for entertaining, relaxing, reading, watching TV or movies, and all the other activities that take place in this core portion of your home.
To generate equilibrium and a pleasant mood, a well-lit living room should have modern lighting. Chandeliers, wall sconces, table lamps, floor lamps, recessed lighting, and even candlelight can be used to illuminate the room for various atmospheres and purposes. Here are some bright living rooms lighting ideas to get you started.
Oversize Statement Light
A large statement arching floor lamp is the perfect choice for smaller rooms. With a stunning, thin shape, these fittings deliver sufficient yet diffused ambient light for a cosy, modern living area.
Use the extra space in the living room to treat lighting as a piece of furniture as well as a source of illumination, whether you go with a design classic like a mid-century Arco Floor Lamp or a cheaper Scandi-style tripod floor lamp.
Old and New
Contemporary lighting design can maintain a room with historic bones with a current twist, while an antique chandelier or vintage sconces may warm up a contemporary living room.
Instead of the formal sconces, you might expect, choosing warm contemporary lighting such as Ball Light Wall Brackets in a tinted glass can give a traditional room a timeless appearance.
You can employ varied shapes while retaining a cohesive sense with additional lightings, such as an above fixture and a standing lamp in brass.
Perfectly Mismatched
There's no need to limit yourself to identical table lamps when picking lighting for either side of a sofa. A table light on one side and a low-slung chandelier on the other establish balance without being too matchy in this living area. Choosing a brass finish on both the fixtures and the coffee table will maintain a cohesive style.
Transparent Lighting
If your living room has a lot of windows, choose lighting that doesn't block the natural light, such as a classic crystal chandelier. Try table lamps with clear or tinted glass forms for a light, uncluttered look.
Layer Your Lighting
Candlelight is the ultimate feel-good light source, and it provides a finishing touch to any lighting plan, making your living space feel even cosier and more inviting. To give warmth to a contemporary setting, mix candlesticks of various styles and materials.
Even if your living room is modest, you should bring in at least three different sources of light to ensure that there is enough light on all levels. Begin with spotlights or chandeliers on your ceiling, then work your way down to just above eye level with wall lights, table lamps, LED strip lighting along bookshelf shelves, floor lamps, and candles.
Hopefully, these ideas can help you find the best choice of lighting for your living space.
Image Source: Pexels