Education
Because You're Worth It: Why you absolutely can earn your degree right now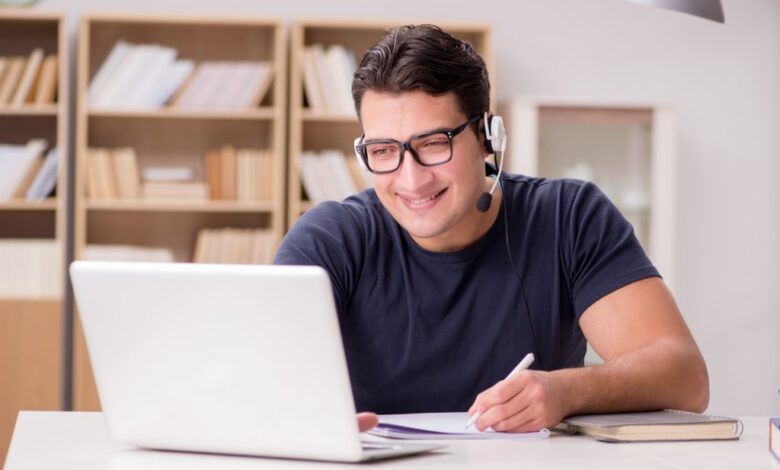 For Syed Learns
No one ever imagines that the decisions they make will lead to a stalled career in a few years' time, but it happens to millions of us every year. Maybe you never got that essential degree. Maybe you are one of the 36 million Americans who spent some time at college, but who didn't manage to complete their programs. Whatever the reason you feel stuck, we're going to show you how you absolutely can and should go back to school and get that degree now. Best of all, you won't even have to quit your job and sit in a room full of 100 18-year-olds staring blankly at a chalkboard.
Studying online makes perfect sense
There has never been a better time to study online. Experts around the world have been studying this for at least a decade, as digital and online resources have proliferated, and they have noticed a distinct shift away from traditional teaching methods and towards the integration of technology in education. This shift is especially marked in higher education, where colleges and universities have found that, using online classes and other remote learning capabilities, they can reach more students in more places than ever before, which is obviously a win for the universities. But students also enjoy the benefit of being able to earn a credible diploma for a fraction of the cost, all at a time that suits them. Whenever they have some time, they can just log on and learn.
A strange silver lining to the global pandemic may be that universities are likely to be investing even more in online learning going forward. After all, if one pandemic could shut down the entire world in a matter of months, there's no reason to think it can't happen again. And in order to ensure learning continues, universities and colleges will need to have robust procedures and equipment to support remote learning.
What kind of course is right for you?
Deciding to go back to school is always a daunting decision, even if it's clear it is the best way to achieve your goals and push your career further. Still, there are some things you should consider. First, consider the kind of online learning you want to do. There are five broad types:
Online programs with asynchronous courses – On these courses, you watch pre-recorded lectures and do classwork when it suits you. You do need to meet deadlines, which might give you the structure you need or might put too much pressure on you, depending on your personality and learning style.
Online programs with flexible meeting times – This is similar to an asynchronous course in that much of the work can be done in your own time. Lectures and group meetings tend to be set at specific times, however. This might appeal if you prefer more interaction with students and professors, for example.
Programs where you work at your own pace – On these types of courses, there is only one deadline: the end of the course. Otherwise, you are free to complete the work in your own time. Power through the courses to finish the course early, or arrange the work to slot around particularly busy times of the year. As long as it's all submitted by the end of the year, it's up to you.
Online programs with flexible clinical options – If you want to retrain in the medical field or if your degree requires in-person training, you will likely enroll in this kind of course. The book learning you would ordinarily do in a classroom will be completed at home, but the practical hours will be undertaken at set times in person. Most of these courses, especially if they are part-time, are designed to be completed by working adults, so you should find some flexibility as to when you can fulfill these hours.
Blended learning – This is quite similar to an online program with flexible clinical options, in that about half of the coursework is online and about half is conducted in person. This might be ideal if you have the flexibility to go into the school sometimes, but not enough to be a full-time student. The courses also tend to appeal to adults who have some working experience behind them, and they tend to have the flexibility to work around an established schedule.
Once you know what kind of course will work best for you, you can start researching your options. When you've found a course you like the look of, it's a good idea to do the following three things:
Talk to an online advisor on the program, preferably one that has experience with the online program you are interested in. Ask what the course aims to achieve, what support is available for students, and other practicalities of going on the course.
See if you can test out a course by sitting in on a real online class, or if the university offers any Massive Open Online Courses, free or cheap courses that anyone can sign up to, without enrolling in the school. This will give you an idea if you actually want to learn online.
Check social media for mentions of the school. If you find real students, see if you can get their candid thoughts on the course.
If you have done all of that, you should have a good idea if the course is right for you, if it teaches what you are expecting it to and whether online learning is right for you after all.
How to get the balance right
No matter how you stack it, it is going to be a challenge to bring a whole new chunk of work and priorities into your life. Luckily, there are plenty of things to do to make sure you make time for all the most important things.
Stop and take stock of what really matters to you. Of all your regular tasks and activities, which ones do you want to make time for? When starting an online course, one of the big ones will be time to complete your coursework, but you can't forget all the other things that matter, too, like work and family commitments.
Schedule time in your calendar for those important things, and treat them like work meetings. Exercise will happen at this time, studying at this time, and family mealtime at this time, for example, and those hours are blocked out.
Accept failure and compromises. Right now, getting the balance right is a process, so things will go wrong. Emergencies will pop up, and some things might fall through the cracks. That's okay, and it doesn't mean you won't find a balance eventually.
Review and adapt. Scan yourself for burnout. Make sure you aren't going too hard. Think about what success looks like to you as a family member, as a worker, and as a student. As time goes on, these pictures will shift, so take the time to make your schedule shift, too.
You're worth it, and upskilling is worth it, too
After all this, you may be thinking to yourself that it is already all too much, but the fact is that upskilling and continuing your education is going to be the new normal for many of us. The McKinsey Global Institute reports that, following the pandemic, 25% more people than previously estimated are going to need to switch occupations because of automation, AI and other challenges in the workplace. That's one in every 16 workers, they say.
According to Human Resources Director magazine, there are going to be 11 big fields in the post-pandemic economy: health care workers, delivery service workers, construction workers, video game and tech developers, essential goods providers, COVID testers and sanitizers, contact tracers, temperature screeners, face mask makers, video calling app support technicians, and social distancing monitors. Some of these jobs are low-skill, admittedly, but many of them will involve more automation and computer training than they did even five years ago. Even working in a grocery store requires working with computers in the scanners and checkouts, and you need to make sure you have those and many other skills for the future.
Making any big life change can be scary, but more often than not, if you allow yourself the chance to succeed, you'll have more opportunities than you ever imagined. With this guide, you know understand what, how, and why you need to study online.